Tory 'surge' was just a stirring of an unchanged Unionist vote
Source: John Robertson Tory 'surge' was just a stirring of an unchanged Unionist vote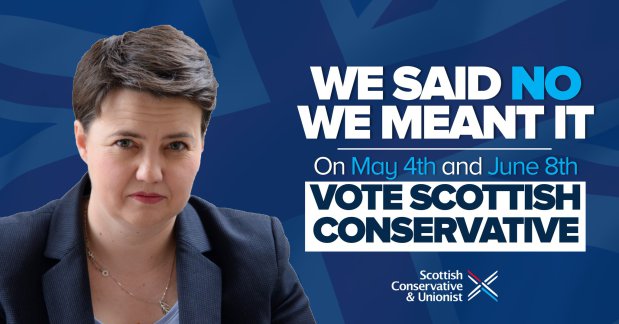 Only a vote for the Scottish Conservatives will send a strong message that we oppose SNP's divisive plan for a second referendum. pic.twitter.com/XUmDdg7VXZ
The Tories made opposition to a second independence referendum the central issue of their campaign. They explicitly asked the Scottish electorate to come out and vote against it. This is, of course, not really a local election issue so their failure to reduce the pro-referendum SNP vote means they lost the election on that issue. From the SNP website:
The SNP won the election nationally, with the largest number of councillors and the highest vote share of any party.
We've won more councillors, with 431 elected compared to 425 in 2012.
The SNP is now the largest group in 16 of 32 councils.
The SNP has ended almost 40 years of Labour control in Glasgow, becoming the largest party in the city for the first time.
The SNP are now the largest party in Scotland's four largest cities: Glasgow, Edinburgh, Aberdeen and Dundee.
In response to the Tory call for a vote against Indyref2, those who were already in agreement merely switched their vote to the Tories. While the mainstream media are making much of their 164 seats gained, these came from Labour who lost 112 and the Independents who lost 86.
So, on their own chosen ground, the Tories lost. The idea that they have in any way damaged the referendum bid is plain daft. As for the Labour voters who stuck to their leftist principles, who knows how close they are to becoming Yes voters next time?
https://www.snp.org/snp_win_the_scottish_council_elections