Good News, Gordon Brown is back………to completely sabotage the No campaign
Source: John Robertson Good News, Gordon Brown is back………to completely sabotage the No campaign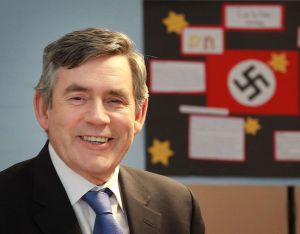 (c) Daily Express
BBC News announced: 'Gordon Brown: 'Holyrood should gain Brexit powers'
Typically respectful, they go on to say:
'Gordon Brown has set out a "third option" for Scotland's future, based on more powers being transferred to Holyrood after Brexit. The former Labour prime minister suggested the Scottish government be given the power to set VAT rates and sign international treaties. Control over agriculture, fisheries and environmental regulation could be transferred, he argued in a speech. '
Remember Tony Blair's 'Third Way and Adolf's 'Third Reich [see photo above]?' Those went well didn't they? Is 'third' a bad choice generally?  Keeping my face as straight as I can, I can also reveal:
'He also proposed that the Bank of England becomes the Bank of England, Scotland, Wales and Northern Ireland, with fully staffed representation in Scotland, "to reinforce the fact that the pound is for everyone".'
Why not 'Bank of Britain', I wonder?  Anyhoo, don't make me laugh. There is no way the Tories will allow any of the above power transfers from the EU to Holyrood far less the daft idea about the Bank of England. We already know from opinion polls that Tory MPs, activists and supporters are utterly opposed to Scotland getting more devolved powers. There's more support for chucking us out of the UK than there is for any of that.
The No campaign faces 'too-close-to-call' polls, a war on three fronts with the EU keen to punish them, the two Irelands and a Scotland they plan to treat as just a disobedient child. Labour and the Lib Dems won't share a stage with them. UKIP would build a Trumpian wall across the border. Now Gordon Brown lumbers in to seal the deal for Scottish independence. Brilliant!
http://www.bbc.co.uk/news/uk-scotland-scotland-politics-39309133